Saturday 10th February 2024 at 6pm or Sunday 11th February 2024 at 2pm

Buying tickets
Below are details and links to where to buy tickets for the next Birmingham International Tattoo which will be held in 2024 at our new venue - Resorts World Arena at the NEC. Websites such as Viagogo are reselling tickets that cost £20 for as much as £295 each and are showing wrong face values of £100. Don't be fooled by these websites and only buy from the Ticket Factory who are our authorised seller.
Buying for Christmas?
If you are buying tickets as Christmas presents you can download our A4 sheet and print it out and fold it to use to gift your tickets in.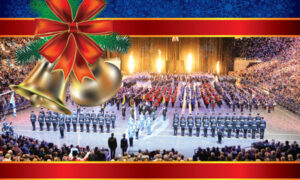 Got a question after buying tickets?
All ticket sales are managed by the Arena and the Ticket Factory. If you have any questions regarding tickets after purchase you need to contact the Ticket Factory directly.
You can use the contact form on their website: https://expoware.io/cs-online-email-form
Please detail your query using the form and someone will respond to you from the ticketing team.
Or alternatively you can call the Customer Services team on 0333 300 3010.
Special note for Accessible tickets
To purchase accessible tickets online you will need an Access Card registration. If you are not already registered, you can find out more here. Accessible tickets can be bought online or over the phone (see above). There is usually significant demand for accessible tickets so we advise booking early.
Parking
Special discounts are available for parking at the Arena during the Tattoo. Book parking online before the day of your visit and you can make a £5 saving (T&C's apply). That's one less thing to think about on the day! Click here for details.
Do you want the VIP experience at the 2024 Birmingham International Tattoo?
There are a limited number of VIP spaces available which include all the benefits shown on the image. Book soon to reserve your place as this is a very popular package. Further details on this special VIP offer can be found by clicking here.