At this critical time when Star and Garter are continuing to provide loving, compassionate care to veterans and their partners living with disability or dementia, it has never been more important to support them. You can help them now by clicking on the button.
Each year through the generous support of our audiences we raise funds for various charities who work to assist veterans and those serving in our Armed Forces including Royal Star & Garter.
The organisers of the Birmingham International Tattoo would like to offer thanks to all those who attended the 2023 Tattoo and helped us raise additional funds for forces charities Troop Aid and Royal Star and Garter. The total raised over the last few years for Royal Star and Garter is £126,000. Read more here.
Supporting Royal Star & Garter
The money raised on the Sunday performance each year goes to Royal Star & Garter, a charity which cares for disabled veterans and has a local home at Solihull only a few miles away from where the Tattoo is held each year.
Royal Star & Garter provides award-winning care for veterans and their partners who live with disability or dementia, in state-of-the-art Homes. The Charity was founded in 1916 to care for the severely injured young men returning from the battlegrounds of the First World War. Today, they provide specialist nursing, dementia and therapeutic care, together with a varied and engaging programme of activities, which enable residents to remain independent and enjoy life.
Andy Cole, Chief Executive, Royal Star & Garter said; "Once again, our thanks go to the organisers and volunteers for their wonderful work supporting us, and the audiences who have given so generously. Their donations will help us continue providing exceptional care to veterans and their partners at our Home in Solihull."
For more information or to make a donation to Royal Star & Garter please visit their website or click on the image below.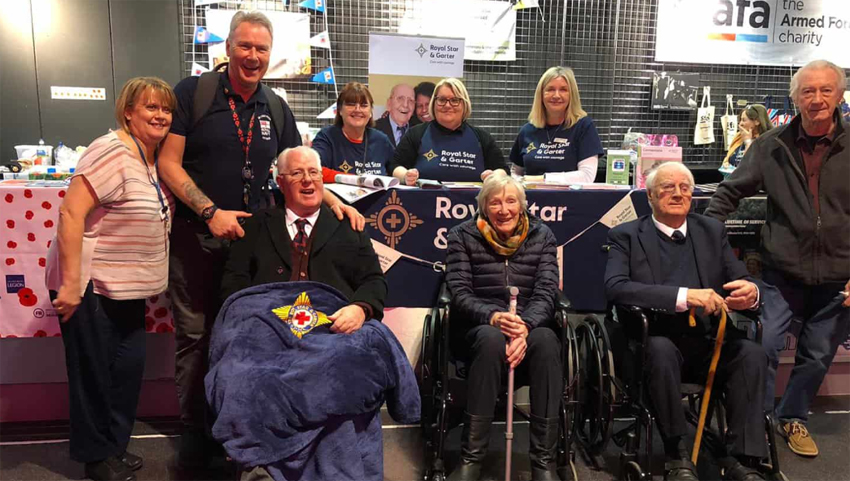 Royal Star & Garter residents and staff, with volunteers at the 2023 Tattoo